10th Mountain Climate Project
Imagine this: you arrive at your favorite hut—maybe it's the Peter Estin, or the Eiseman, or the Skinner Hut—to ski one of your favorite lines or spend a relaxing weekend in nature among the trees, only to find that that's not possible. There's not enough snow. Or a winter rainstorm, high winds, or extreme avalanche danger has you shut inside. Or the surrounding woods have been charred by recent forest fires. Or the hut itself has burned to the ground. These eventualities are becoming imminent realities.
Climate change is our greatest planetary threat, affecting all species and ecosystems. We're at a critical junction, and the actions we take in the next decade will affect everything. For the 10th Mountain Hut Division Hut Association, our greatest threats are decreased snowpack, increased fire danger, severe weather, and vast landscape changes. "The Rockies are warming faster than the rest of the country," says Auden Schendler, climate activist, author, and Senior Vice President of Sustainability at Aspen Skiing Company. "In Colorado's high country, we're seeing massive pine beetle infestation because we don't have these cold snaps in the winter that kill beetles. On snow, you're seeing longer shoulder seasons and runoff that happens earlier and all at once."
At 10th Mountain, we're doing everything we can to help reverse climate change. That begins with leading by example. We're getting our own house in order, improving the way we do business, and, overall, trying to do the right thing.
"The 10th Mountain huts provide a unique and valuable experience—one that requires a natural mountain environment to fully enjoy," says Ben Dodge, 10th Mountain Division Hut Association Executive Director. "If we do not take action to stop the effects of climate changes, some of which we're already experiencing, the hut experience that we know and love might cease to exist. We decided to activate around climate change when it became evident that there was greater need for change and engagement. This is the time for all-hands-on deck."
Our Stories
To broaden its perspective and reach, 10th Mountain is gathering stories from influential hut visitors and climate activists like Auden, Christy Mahon and others who understand what the long-term effects of climate change look like. We will share these stories via website, social media and direct emails. We will also be sharing regular reports on 10th Mountain's carbon footprint reduction efforts in our blog, The Sustainability Notebook. We hope this communication will inform hut users and the public of our climate project and perhaps inspire action.
Carbon Reduction
10th Mountain has partnered with CLEER, a Roaring Fork Valley nonprofit consulting company, to improve the energy-efficiency of hut and administrative operations. CLEER has conducted a thorough inventory of 10th Mountain's greenhouse gas emissions, completed onsite inspections and assessments of 10th Mountain's Aspen office, employee housing, and Base of Operations in Leadville, and delivered a very useful report that will guide 10th Mountain's actions to reduce its greenhouse gas emissions. For more information you can read the entire report here, Cleer Report.
Forest Health
It's not our first time addressing the threats of climate change. In 2005, we developed our wildland fire mitigation plan to increase our preparedness in the event of fire to protect life and our huts. That work continues to this day. In 2010, 10th Mountain contracted a comprehensive forest management plan that taught us the composition, age and condition of the forest around the huts and identified ways to make that forest more resilient against insects, drought, and wildland fire. Now, in response to more extreme wildland fire behavior, we're re-assessing how best to reduce fuels around the huts, further modifying the huts to reduce ignitability, and other measures to protect life and defend the huts.
Call to Action
One of the simplest— and most important—things we can do is ramp up the conversation. Even though more than 7 in 10 Americans believe climate change is happening, and 6 in 10 are worried about it, two-thirds of Americans rarely, if ever, talk about climate change with the people they care about. Where better to have this conversation than at a 10th Mountain hut, surrounded by friends and wilderness? The more people hear conversations about climate change, the more socially validated these conversations become. We hope our hut community uses its voice for climate action. We want hut users to tell our policy makers that they care about climate change and want to see them enact laws and policies that address greenhouse gas emissions and climate impacts. Together, we can make an impact on climate change.
CLEER is advising 10th Mountain on ways to improve the energy efficiency of 10th Mountain huts and administrative facilities.
CLEER is a nonprofit organization based in Carbondale, Colorado that works to accelerate the transition to a clean energy economy, increase energy independence, and reduce our contribution to climate change. CLEER seeks and supports collaborative opportunities for research, education, advocacy and implementation of resource efficiency projects. CLEER's expertise is centered on energy efficiency, renewable energy, alternative fuels and community economic development. Its work builds resilience in the economy, expands sustainability, and reduces carbon emissions.
CORE is advising on energy efficiency of huts and administrative facilities and providing a generous grant to help fund improvements to 10th Mountain's employee housing building to make it more energy efficient, convert from natural gas to electricity for heating and domestic hot water, and installing solar panels to generate electricity on-site.
CORE is a 501(c)3 nonprofit dedicated to leading the Roaring Fork Valley to a carbon-free, net zero energy future. Under the guidance of a Board of Directors – made up of elected officials, utility representatives, and committed citizens – CORE helps people, businesses, municipalities, facilities, and nonprofit organizations save natural resources and lower energy bills while reducing their carbon footprint. This work is accomplished by providing grants, rebates and energy advising for residential and commercial energy upgrades, energy benchmarking for buildings, groundbreaking local projects, and climate action planning support for communities.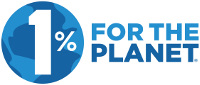 10th Mountain was recently invited to join the 1% for the Planet network and immediately (and enthusiastically!) accepted. Being a 1% for the Planet nonprofit partner means that 10th Mountain is eligible to receive donations from 1% for the Planet members. Members give directly to approved nonprofits and 1% for the Planet certifies the donations.
1% for the Planet is a global movement inspiring businesses and individuals to support environmental solutions by donating 1% of their annual sales/income to environmental nonprofits. 1% for the Planet helps forge philanthropic partnerships of its members and approved nonprofit organizations based on their values and giving goals. Through these relationships, members connect directly with nonprofits, providing monetary donations, volunteer time, in-kind donations, and other shared-value collaborations. Then, 1% for the Planet certifies the donations made by our members, providing a third-party certification that communicates their environmental commitment to consumers. 1% for the Planet continues to grow and reached 5,000+ members this year and certified $47 million in donations.
Become a 10th Mountain Member
10th Mountain relies heavily upon donations to construct, maintain, and operate the hut system. These contributions also allow us to keep the hut fees affordable. As a member of the 10th Mountain Division Hut Association you will receive a regularly published newsletter, a gift, and the opportunity to reserve huts early for the winter season by participating in our reservations lottery.
Learn More