Benedict 100 Hut-to-Hut Ski Trip Lottery
Calling All Adventurous 10th Mountain Members!
The Benedict 100 is a 5 Night/6 Day, 100+ Mile Backcountry Ski Tour from Aspen to Vail, CO – now available by lottery only, for 1 lucky group.
This grueling itinerary skips huts and there are no layover days – a pre-trip training program, extensive planning, winter backcountry experience, and raw grit is REQUIRED!
Ski 12 to 20+ miles each day, with elevation gains up to 5,200′, staying at Margy's, Betty Bear, Uncle Bud's, Jackal and Shrine Mountain Inn.
Tour may occur on the dates of your choice in January or February, 2025 (date exclusions below).
You pick your skiers, hut hosts, and hire guides if needed.
Group size on the trail should be no less than 6 skiers, but a maximum of 16 guests can stay the night at each of the huts – so having friends, family members and/or guides as hut hosts to cook, clean and tend to blisters – is encouraged! Support on a trip of this difficulty and duration is necessary. Regardless of your group size, the huts will be reserved for your group only.
10th Mountain can pre-stock the huts with a reasonable amount of non-perishable food items that you purchase, package and deliver to our Aspen office.
The Benedict 100 itinerary is physically challenging, with extremely long and arduous days on the trail -groups will be responsible for planning and executing any "bail-out" scenarios and shuttles.
Important Dates, Details & Restrictions
The Benedict 100 Lottery form will be available starting Monday, December 18th

, 2023

.
Your membership must be current to enter this lottery. You will have an opportunity to purchase or renew your membership as part of the lottery application process.
The deadline to complete the lottery form is 

Friday, January 12th, 2024 at midnight

.
The Benedict 100 winner will be notified by 

Monday, January 15th, 2024

.
Winner's choice of trip dates* (in January or February 2025) must be submitted by

Monday, January 22nd, 2024

. 

*The following nights of stay are excluded: Tuesday, December 31st, 2024 and Wednesday, January 1st, 2025 / Friday, Saturday, Sunday and Monday nights: January 17, 18, 19 and 20, 2025 / Friday, Saturday, Sunday and Monday nights: February 14, 15, 16 and 17, 2025.

Payment must be submitted by 

Monday, January 22nd, 2024

. The 6-person minimum payment is $1425 and includes 5 hut nights, tax, plus Vail Pass Recreation Fees. This price is subject to change, and does not include additional over-night guests, such as family members, hut hosts and any guide spaces. Use of these additional spaces is encouraged, up to a maximum of 16 total, and must be purchased prior to the trip start date at the standard hut rate.
To cancel for 80% hut credit, you must notify us by 

Monday, August 12th, 2024

. This date is based on allowing time for another group to plan and prepare.
For cancellations occurring after 

Monday, August 12th, 2024

, no credit will be issued, and 10th Mountain reserves the right to offer the trip – in its entirety – to the next selected Benedict 100 lottery entrant.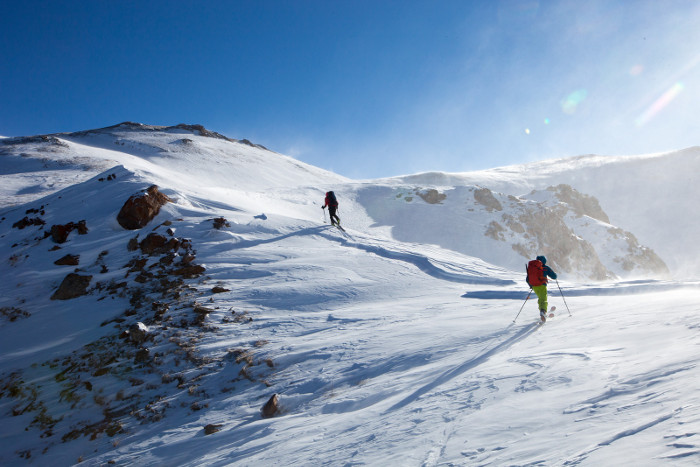 Since the late 1980s, 10th Mountain staff, Paragon and Aspen Alpine guides, a stream of hearty participants, and countless volunteer "hut hosts" have shared in the organization and fruition of a variety of interconnect and ski through itineraries:
In 1989, Paragon Guides led the first 

Interconnect Ski

 – a tour from Aspen to Vail commemorating the return of the FIS Alpine World Championships to Vail, Colorado that also celebrated the spirit of hut-to-hut skiing. That year's intrepid skiers relayed a special flag that had been made to honor the link between the 1950 and 1989 FIS Alpine World Championships – all the way from the top of Aspen Mountain to Beaver Creek!
In 1993, another commemorative hut-to-hut tour called 

10/10/10

 went from Vail to Aspen, and celebrated 10th Mountain's 10th year of operation, and the completion of our 10th hut.
Later in the 1990s, shorter hut-to-hut 

Ski Through

 tours were offered, with some groups skiing in opposite directions and meeting mid-way at a hut for a celebratory dinner brought in and prepared by the hut hosts.
From 1999 on, the lengthiest and most arduous hut-to-hut tour, inspired by the 1989 Interconnect Ski, officially became the 

Benedict 100

. This tour pays tribute to its namesake, Fritz Benedict, the founding father of the 10th Mountain Division Hut Association. Fritz was a WWII 10th Mountain soldier and an architect in Aspen, whose vision of providing access to Colorado's beautiful and challenging backcountry with a system of huts is now a reality that we can all enjoy!
It's our pleasure to now offer the Benedict 100 itinerary in a special lottery – so that even more people can enjoy this fine tradition.