This is serious backcountry skiing. The average route is 6-7 miles long and climbs 1500-2500 feet in elevation from a trailhead that is at 8,000 feet or higher. Ski touring at high altitude is physically demanding and each person responds to high altitude differently. Be sensitive to any symptoms related to altitude sicknesses among members of your party.
The U.S. Forest Service recognizes that the public trails that access the huts generally require use of intermediate backcountry skiing skills. However, some trail sections are more difficult and may require more advanced skiing skills. You don't have to be an expert but you should at least be strong and stable on your skis, and have the right equipment. Skis with metal edges, climbing skins, backcountry poles, and heavy leather or plastic boots are recommended.
Someone in each group must have leadership, route finding, avalanche awareness, and first aid skills. Route finding may be the most important skill you need. A detailed topographic map, a compass, and the ability to use them are absolutely essential for a successful trip. Suggested routes are only intermittently marked with blue diamonds except in National Forest Wilderness Areas where only tree blazes are allowed. You cannot expect to find a broken trail, and from one trail marker the next one is usually not visible. Even shorter trips, with minimal elevation gains, can become very challenging in whiteout conditions or if you have to break trail in deep snow.
The Colorado backcountry is known for widespread and long lasting snowpack instabilities. Avalanche hazard is a real concern for all winter travelers. A number of the suggested routes to 10th Mountain Division Huts pass through or are next to terrain that may be prone to avalanches. Accordingly, pick the suggested route that most suits your group and its abilities, carry appropriate equipment, and always exercise prudent backcountry travel techniques when passing through avalanche prone terrain. Remember, avalanches can occur in forested areas and can run into forested areas from open slopes. Each group must continuously evaluate the danger and practice prudent travel procedures. Routes are not marked or maintained for the Braun huts. These huts are in areas of known avalanche terrain with recurring avalanche cycles. For more information we strongly suggest you visit the Colorado Avalanche Information Center Website. They have the most up to date avalanche information as well as a ton of excellent weather and snow science information.
U.S. Forest Service permitted guide services are available if your group lacks the skills necessary to complete a safe trip or is interested in a catered trip. Along with their knowledge of the backcountry, routes, and huts, guides provide transportation, food, gear rentals, and instruction. Please see the Guides section of this site for more information on guide services.
If you would like to improve your skills, 10th Mountain, Summit Huts, and many other organizations sponsor backcountry skills and avalanche awareness workshops each winter. Please see the Community section of this site for information on upcoming classes.
Hiking and mountain biking at high elevations are very physically demanding activities. The average suggested summer route to a hut is 8+ miles long and climbs 1500-2500 feet in elevation from a trailhead that is at 8,000 feet or higher. Suggested summer routes are not marked or maintained. A detailed topographic map, a compass, and the ability to use them are absolutely essential for a successful trip. Someone in each group must be proficient in route finding, map/compass reading, and first aid.
Weather in the mountains can change rapidly. A warm summer morning at a trailhead can turn into a cold storm with lightning at 11,000 feet. Snow and hail are not uncommon at high elevations in the summer and temperatures can drop below freezing. Other days can be very hot. Rain and snowstorms can leave backcountry roads in bad condition and make travel difficult or impossible. Hut users need to be adequately prepared and bring extra food and water.
Motor vehicles are strongly discouraged except as group support. Some routes may remain snow covered and impassable by vehicles well into August and sudden thunderstorms can render roads undrivable at any time. All vehicles must park at the closure gate that marks the non-motorized envelope that surrounds each hut (usually 1/8 to 1/2 mile). There is a cart at each gate that can be used to ferry gear from your vehicle to the hut. Motorized or mechanized vehicles (i.e. mountain bikes) are not allowed in Wilderness areas. 10th Mountain does not guarantee vehicle access to any hut at any time. Do not count on a vehicle to execute your chosen itinerary.
Once you've decided on an appropriate trip, and are certain you have the skills for backcountry travel to your chosen hut or huts, please check the How to Make a Reservation option on the menu at the top of this page.
Step 1: Gather Information.
Read through all of the information available on this site, study the overview map and specifics about each hut. Rates can be found on the individual hut pages or on our Rate Chart. We recommend that you study topographic maps of the areas you are considering. Additionally, privately produced guidebooks are available that provide route descriptions, estimations of difficulty and travel time, and suggested itineraries. Maps and guidebooks can be purchased through 10th Mountain's online store and at many outdoor retailers. Using these resources, calculate route distances and elevation changes to determine which huts best suit your abilities. Keep in mind that you will be carrying a large pack uphill at altitude and, in the winter, possibly breaking trail in stormy conditions. You do not want to overestimate your abilities, since the consequences might be spending a night out. Call 10th Mountain at 970-925-5775 if you have questions. We can't plan your trip for you, since only you can evaluate the strengths and weaknesses of your group, but we may be able to provide further details or compare new routes to trips you have done in the past to help you make a final decision. It is also helpful to remember these are communal-style huts that you may be sharing with other people. You can review our "Hut Etiquette" document for some helpful tips on how a little common-sense courtesy can make everyones hut trip a memorable experience.
Step 2: Check availability.
Hut availability is posted on this site and is updated every day. You can also call in for hut availability. To view availability online, you can go to the individual hut pages or use the "Hut Search" link in the Huts" menu at the top of the page.
Step 3: Designate a group organizer.
Decide who will be responsible for making the reservation and distributing all of the information to each member of the group. It is the responsibility of the group organizer to make sure that each person traveling to the hut returns a completed Waiver and Release form to 10th Mountain. Group Leaders: Due to an increase in members of groups not paying for hut nights or signing releases, additional responsibility and liability is being placed on the group leaders. In the Waiver and Release Agreement, group leaders will agree to indemnify 10th Mountain and other hut owners/operators for any liability for injuries, paralysis or death to any member of his/her group that does not sign a Waiver and Release Agreement. In addition, the group leader will be charged for the otherwise unpaid for hut nights. We trust this will encourage all hut users to pay for their nights and sign releases. Since the group organizer may not have the most experience in the backcountry, we suggest that your group discuss how decisions will be made in the field and who will be the leader, particularly if problems arise.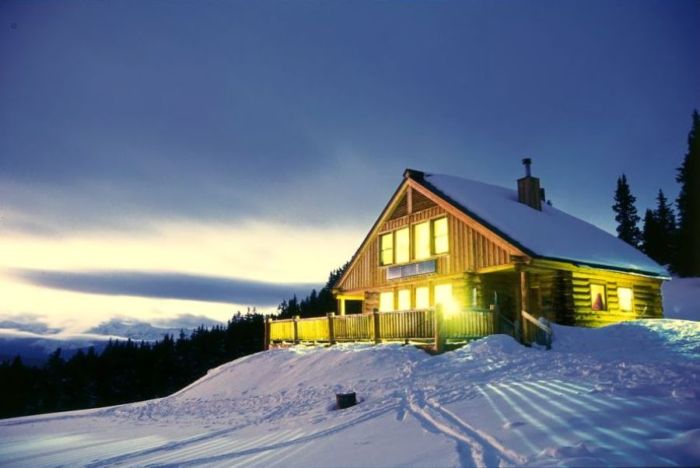 Step 4: Reserve your trip.
Now you are ready to book your trip. See How to Make a Reservation, on the menu above, for more details.
Step 5: Purchase topographic maps.
If you have not already purchased maps when planning your trip, make sure that you get the appropriate maps and study them with your group before you depart for your trip. The overview map, brochure map, and example maps included in this website are intended as an aid for trip planning only and are not to be used for navigation. People who have had to spend an unplanned night out, or who were unable to locate a hut, most often were using an inadequate map, lacked route-finding skills, or got a late start. Though useful in trip planning, please do not mistake our brochure for a topographic map or attempt to use it to navigate to a hut.
Step 6: Prepare If you are not experienced.
Take some backcountry ski day trips to get in shape and become familiar with the equipment. The first day of your hut trip is not the right day to try out new equipment! Study the maps. Decide which trailheads and routes you will use. Evaluate car shuttle requirements, if necessary. Discuss what your group will do if there is an emergency at the hut or on the trail. As part of your emergency preparation, we suggest that each member of your group purchase a Colorado Outdoor Recreation Search and Rescue (CORSAR) card, available from outdoor retailers and 10th Mountain. Refer to the packing list provided by 10th Mountain and assemble the gear you will need. Plan the menu and shop for food. Before departing, check weather and avalanche reports. Avalanche information numbers are provided in the Avalanche Information section of this site.
Step 7: Return one signed waiver per person to 10th Mountain before departure.
Step 8: Bring your your trip confirmation letter showing your door lock combination(s) with you to the hut.